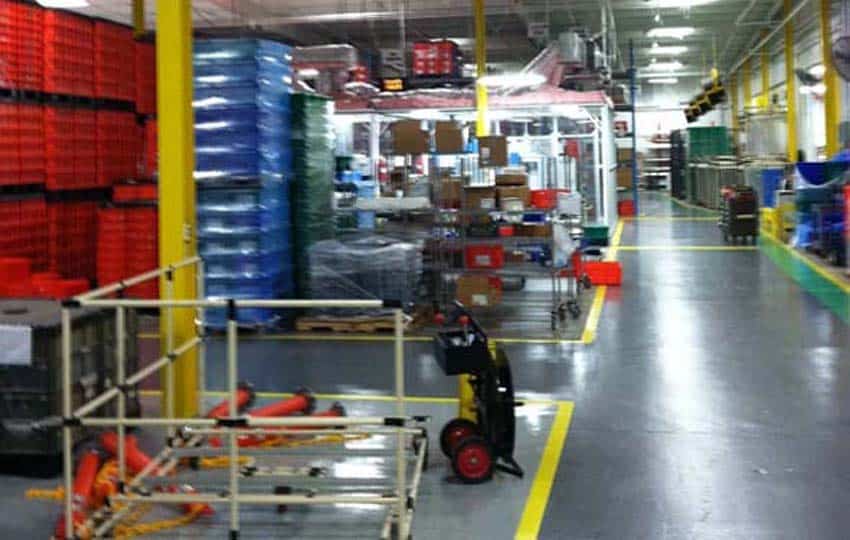 Scope Of Work
Aisle Way Striping
Project Detail
Aisle Way Stripping is Important in Warehouses and many other Industrial Spaces
Often, when you need to keep track of where items are located, such as in a warehouse, you'll need to mark out the aisles. Aisle Way stripping products are essential in these places. They come in many colors and sizes to suit different industrial applications. One such product is floor tape, which is used quite often. Aisle marking tape is durable and pretty easy to apply. It comes in a range of colors allowing you to mark different areas with different colors, which helps people keep track of select areas more easily.
Aisle marking tape also comes in varying widths and a variety of letters, numbers, and shapes. As every project has different marking requirements, a variety in the marking products is essential as it gives customers many options to choose from. Many of the marking items are waterproof; this is critical in industrial applications since spillage and cleaning happens regularly. Removing the tape is as easy as applying. When it is worn out, damaged, or just no longer necessary in an area, the tape can be pulled off quite easily.
Other than floor tape, marking paint is another option that you can consider for Aisle Way Stripping. Many industries choose to use this as it provides a more permanent and cost-effective solution. Like the tapes, floor paint is also available in different grades and colors. It is crucial to note that applying floor paint takes longer than applying floor tape. Taking off the paint when it is no longer needed is also comparatively harder. Both products, when applied and dry, can be walked on and driven on. Paint will take longer to dry and must dry completely before the area can be put to use. Many industrial paint contractors will request that you shut down the units being worked on when using paint to mark floors. With tape, this is not necessary as it is applied without fumes, and the drying time needed is minimal.
Regardless of the product used, the color choice will vary from one company to another. This is because each company has its system and colors that they use. It is, therefore, essential to have a system that employees can understand and communicate the same to your industrial painting contractor. Keep in mind that once paint comes off, we will need to scrape off the area and reapply a fresh coat for proper functionality. In the case of floor taping, reapplication can be done within a short time. We don't have many requirements for this other than pulling off the old tape and reapplying a new one after the floor has been adequately cleaned; cleaning the floors before reapplication helps the tape stick down better.
When choosing Aisle Way Stripping color, keep in mind that this something that is noticeable for everyone. Employees and any other person that comes into contact with the marked area needs to see the color for the strip for the marking to be effective. As earlier mentioned, every company has a system in place whose meaning is known to everyone. Marking the aisles with tape is not always good enough, especially for areas with high traffic and those that get wet often. If you need durable and affordable aisle marking that will hold up to whatever conditions, Factory Painting USA is your go-to company.